Biomagnetic Research Protocol Sacroiliac Pain Reduction
by Lindsey Groem, CTB
Case History & Orientation: A 25 year old woman presents with a 4 year history of left side sacroiliac (SI) pain occurring once yearly. Past treatments include X-rays, injection of medication at site of pain, neural tests, and prescription muscle relaxants and anti-inflammatory medications. This method of treatment resulted in decreased pain but the side affects of the medication forced her to sleep most of the day,
missing 5 full days of work in 20001. Client reported the level of pain as being the highest she has ever experienced and did go into the emergency room for help. This was a 9.5 out of 10. She could only find some relief seated upright on a soft couch or chair. Recurrence of pain was on December 28, 2002. Her pain level in this recurrence was a 5 as she has decided to prevent it from becoming worse through Biomagnetic therapy. As before there was sacroiliac pain on the left side radiating down posterior hamstring. Right hamstring also tight secondary to pelvic tilt 1.5 inches to the left. This occurred after moderate mat exercises that targeted the hips, buttocks, and lower abdominal muscles.

Assessment Used: PT evaluated pelvic tilt: 1.5 inches to left Pain scale: 5/10 prior.

Hypothesis: SI radiating pain and tightness are a direct result of the pelvic tilt. The magnetic exposure may decrease the pain and lactic acid build up thus allowing normal movement. Inflammation may be decreased. Pt may continue working normally without medication or too much pain.
Treatment Goals: Decrease pain from level 5 to level 1 and to increase Range Of Motion to 'Within Normal Limits'.
Treatment Plan: Type of Magnet Used-Ceramic 4" x 6.5" Gauss internal 3,950 ( 280 surface gauss) & magnetic pad 12"x18" with small ceramic disks (approximate surface gauss 100)
Polarity- Negative only next to body
Techniques- Direct & stacking

Duration- 3 days, 30 minute treatments each day and 8 hours each night while sleeping.

Observations/Outcomes: Goals fully achieved. The initial 30-minute treatment decrease pain to level 2 /10 & client was able to stretch as needed. Her anxiety was less due to the immediate decrease in pain using the magnets. Within 4 days the problem was stopped. In comparison to other treatments Biomagnetic therapy was incredible. This could have potentially been another very distressful problem, which caused the client a lot of anxiety that she was going to have to experience another week of pain and missed work. In the future, if this problem arises again the client will without a doubt use Biomagnetic therapy as the first intervention.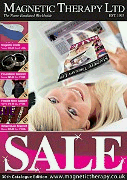 New to Magnetic Therapy? Claim your FREE information pack

Like This Site
Tell a Friend About it