Magnetic bracelets 'do help beat pain'
By Celia Hall, Medical Editor
- Daily Telegraph
(17/12/2004)
People who wear magnetic bracelets to ward off pain may be right to swear by them, researchers say.
A study of people with diagnosed arthritis and pain in their hips and knees found that wearing the bracelets reduced the amount of pain-killers they needed to take, and the stronger the bracelet the greater the effect.
Prof Edzard Ernst and colleagues from the Peninsular Medical School, Exeter and Plymouth, say in the British Medical Journal today that the one-off cost of the bracelets, at £30 to £50, compares well with the cost of taking painkillers in the long term.
For the study, 194 people with arthritis, recruited from general practices in Devon, used bracelets for 12 weeks. They were either standard magnetic bands, of 170-200mTesla - the measurement of the intensity of the magnetic field - weak bracelets of 21-30mTesla, or dummy magnetic bracelets.
Those with high-strength bracelets used painkillers on fewer days in the study period than those wearing weak or dummy bracelets.
Prof Ernst says larger studies are now needed to test the safety of magnets compared with that of drugs commonly used to relieve the pain of osteoarthritis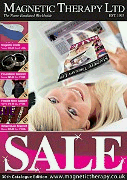 New to Magnetic Therapy? Claim your FREE information pack

Like This Site
Tell a Friend About it