Magnetic therapy for leg ulcer treatment and dysmenorrhoea
Br J Community Nurs. 2006 Mar;11(3):S26, S28-30.

Static magnets prevent leg ulcer recurrence: savings for the NHS? Eccles N.
The Chiron Clinic, Harley Street Practice, London, UK.
info@chironclinic.com
The objectives of this survey were to examine the effectiveness of a static magnet device--4UlcerCare--in preventing recurrence of leg ulcers after healing. Two hundred and eighty-nine randomly selected purchasers of 4UlcerCare were telephoned and asked to complete a short questionnaire. Our focus was on the 211 respondents who had ulcers that had already healed. The average age of subjects was 70.6 years and sex distribution was 55% female to 45% male. Mean duration of leg ulcers before using 4UlcerCare was 4.4 years. Sixty-five per cent of those surveyed had had ulcer recurrence before using 4UlcerCare, with a mean of 2.41 episodes of ulceration. This was close to the expected recurrence rate in the population of 67%. Using 4UlcerCare daily, these respondents' ulcers had healed within an average of 3.57 months. The survey took place an average of 19.94 months after healing. The manufacturers advise wearing 4UlcerCare daily post-healing, and of those respondents that had, none had suffered any recurrence. Extrapolating these results across the health economy, an estimate has been made of a potential pound153.7 million per year saving on leg ulcer care to the NHS.
---
PMID: 16607239 [PubMed - indexed for MEDLINE]
J Altern Complement Med. 2005 Aug;11(4):681-7.

A randomized, double-blinded, placebo-controlled pilot study to
investigate the effectiveness of a static magnet to relieve dysmenorrhoea. Eccles NK.
The Chiron Clinic, London, England. drnyjon@hotmail.como
OBJECTIVES: The aim of this study was to investigate the hypothesis that a specially designed, static magnet of 2700 gauss, attached over the pelvic area, could relieve menstrual pain. DESIGN: This was a randomized, double-blind, placebo-controlled, postal questionnaire study. SETTING: The study was conducted in a primary care, single centre. PARTICIPANTS: Sixty-five (65) women (mean age 29.1 +/- 1.52 years) were recruited from an advertisement in a London newspaper. The entry criterion was regular dysmenorrhoea. The exclusion criterion was known secondary dysmenorrhoea. Of the 65 women who were enrolled, 35 completed the study. INTERVENTIONS: A questionnaire-based assessment was completed by each subject and checked by telephone before and after random allocation to use of either the static magnet device (2700 gauss) or an identical, weaker magnetic placebo device (140 gauss). Assessment was made by telephone before and after a complete menstrual cycle. None of the participants was examined or seen face-to-face. MAIN OUTCOME MEASURES: The main outcome measures were level of pain, using the McGill Pain and Visual Analogue Scales, and ratings of associated symptoms such as irritability, restriction of usual activities, and painkiller consumption. RESULTS: There was a significant reduction (p < 0.02) in pain in the magnet group compared to the placebo group. Pain score differences (McGill pain score before-pain score after use of device) were -17 (-53, 13) (median and inter quartile ranges) in the magnet group and -5.0 (-29, 27) in the placebo group. The 95% Mann-Whitney confidence intervals for the median difference between the magnet and placebo groups (magnet-placebo) were -53.0 to 23.38. A reduction in irritability symptoms in the magnet group approached statistical significance (p = 0.056). CONCLUSIONS: Despite the small number of participants, the level of significance reached in the reduction of pain merits reporting. This is a pilot study to a much larger study of the same device as an analgesic in women with primary dysmenorrhoea.
---
PMID: 16131292 [PubMed - indexed for MEDLINE]
Altern Ther Health Med. 2004 Mar-Apr;10(2):36-43.
Double-blind placebo-controlled trial of static magnets for the treatment of osteoarthritis of the knee: results of a pilot study. Wolsko PM, Eisenberg DM, Simon LS, Davis RB, Walleczek J, Mayo-Smith M,Kaptchuk TJ, Phillips RS.
Division for Research and Education, Harvard Medical School, Boston, MA, USA.

CONTEXT: Outpatient clinical studies of magnet therapy, a complementary therapy commonly used to treat osteoarthritis (OA), have been limited by the absence of a credible placebo control. OBJECTIVE: Our objective was to assess the feasibility and promise of studying static magnetic therapy for knee OA and determine the ability of a new placebo-magnet device to provide concealment of group assignment. DESIGN: Randomized, double-blind, placebo-controlled clinical trial. SETTING: Academic teaching hospital in Boston. PARTICIPANTS: We enrolled 29 subjects with idiopathic or post-traumatic OA of the knee. INTERVENTIONS: Subjects received either high-strength magnetic (active) or placebo-magnetic (placebo) knee sleeve treatment for 4 hours in a monitored setting and self-treatment 6 hours daily for 6 weeks. MAIN OUTCOME MEASURES: Primary outcomes were change in knee pain as measured by the WOMAC Osteoarthritis Index Pain Subscale at 6 weeks and extent of group concealment at study end. RESULTS: At 4 hours, VAS pain scores (+/- SE) on a 5-item scale (0-500, 500 worst) decreased 79 +/- 18 mm in the active group and 10 +/- 21 mm in the placebo group (P < 0.05). There were no significant differences in any primary or secondary measure of efficacy between the treatment groups at 6 weeks. Despite widespread testing for magnetic properties, at study end, 69% of the active group and 77% of the placebo group (P > 0.2) believed that they had been assigned to the active treatment group. CONCLUSION: Despite our small sample size, magnets showed statistically significant efficacy compared to placebo after 4 hours under rigorously controlled conditions. The sustained efficacy of magnetic therapy for knee osteoarthritis could be assessed in an adequately powered trial utilizing an appropriate control such our new placebo-magnet device.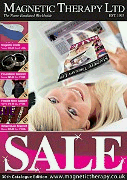 New to Magnetic Therapy? Claim your FREE information pack

Like This Site
Tell a Friend About it