Debbie Shimadry - Magnetic therapist
( R.N, DipH.E Nursing, Dip M.T (M.C)

Dee Parsons- Magnetic therapist
( E.N, Dip M.T (M.C)

Sanj Shimadry- Nurse Practitioner.
(Dip H.E Nursing, Bsc Hons Health Studies)
Question of the week
Q: I have suffered with rsi (wrist) for years this problem has become a lot better since I changed jobs, my problem now is tennis elbow can magnets help? I also have a dodgy Knee. I have been for physiotherapy the physio says I need to build the muscle up to support the knee. (this just makes it worst than ever) Should I try a magnet on that also?

Mark
A:
Hello Mark,

Magnets can help with all of the ailments that you have mentioned, they will help to treat the pain, inflammation and stiffness in the area in which they are worn.

If you still get RSI in your wrist then a magnetic bracelet or wrist strap would need to be worn there. For tennis elbow an elbow strap worn just above the elbow joint would be best. Your knee pain can be helped by using a magnetic knee strap either just above or just below the knee cap, but if you have been told that you need to strengthen the muscles in that area to support the knee then you should do any exercises that they have given you to help with that because magnets won't cure the problem they will only take away the pain and swelling. Wearing a magnetic knee strap will help to control your pain and inflammation and this may enable you to do the exercises with more ease.

You should wear these magnets 24 hours a day 7 days a week at first until you have received the benefits and then you may take them off if you wish but the pain will come back at some point so a lot of people wear them all the time prevent the pain coming back.

If you need any more advice then please get in touch.

Regards
Debbie
---
Q & A library
Have a question? Need an answer?
The Q&A Library contains many articles and is an excellent resource for answering your questions
and building your knowledge about magnetic therapy.
View Q & A archive>>
---
Ask your Question?
Have a question but couldn't find an answer in the Q&A Library?
We're always happy to hear from you, so please send your question
to one of our therapist by clicking on the link below.
Ask a question>>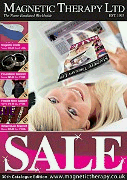 New to Magnetic Therapy? Claim your FREE information pack

Like This Site
Tell a Friend About it