Ask the Experts> Question?
This service is no longer available. Please ask questions via our health discussion board
Fill the form below to ask your questions. Please Enter a valid email address so that we can forward the answer to you.
We offer FREE comprehensive healthcare consultations to all customers. We are the U.K.s only dedicated magnetic therapy advisory centre, clinic and training centre that is run by N.H.S nurses.
Each nurse also has a magnetic therapy qualification. You can visit us in our purpose built, disabled access therapy clinic and training centre ( in Derbyshire). You will be seen by a qualified nurse and magnetic therapist who will give you a FREE 30 minute healthcare consultation. Your therapist will be able to answer all the questions you may have about magnets, how they work and which is the best way to apply them. You will also be able to discuss any other health worries or problems you may have.
If you cannot get to our clinic to see us you can still benefit from a FREE healthcare consultation. Simply call us on our free phone number 0800 612 1346 and we will arrange to call you back at a time and date that is convenient for you to complete the consultation.
We never charge for our clinic consultations no matter how many appointments you may need.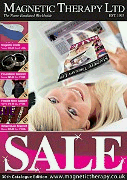 New to Magnetic Therapy? Claim your FREE information pack

Like This Site
Tell a Friend About it