World of Magnets Ltd
In association with the
The Comprehensive Guide to Healthy Feet
Introduction.
In an average lifetime, we walk about 100,000 miles, which is tough on our feet. Yet our bodies were designed for moving - not standing still, so walking is good exercise for our feet. Walking helps the muscles and ligaments in our feet to work more efficiently, and helps keep them supple and flexible. So even if you have to sit around a lot in your job, or at home, try to get up and walk briskly for at least 30 mins every day.
Walking comfortably
Feet are adaptable and can withstand a lot of pressure before they rebel. If you walk a lot, it's important to wear the right footwear which won't damage your feet.
THESE SHOES ARE MADE FOR WALKING
Shoes should be flexible enough for walking and fit in the following ways:

Length - there should be up to one centimetre of room left from the tip of your big toe to the end of the shoe.

Width - wide enough to allow the toes to move freely. If too narrow, the toes will rub against the shoe and corns may develop.

Depth - deep enough so the toes don't push against the upper part of the shoe.
A Guide to good foot health.
Getting into a daily routine
Proper foot care is essential to healthy, painless feet, and should be as much a part of your daily routine as brushing your teeth. It's never too early or too late to start caring for your feet, and there's a lot you can do for yourself. If you have diabetes, consult a registered chiropodist/ podiatrist for a full check up and advice.
Next Page >>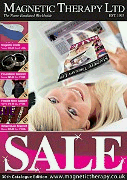 New to Magnetic Therapy? Claim your FREE information pack

Like This Site
Tell a Friend About it