CATEGORY: HEALTH
Pulse Magnetic Therapy A bio electromagnetic product for effectively managing pain, sleep disorders, inflammation and improving joint flexibility without side effects.
Getting Pregnant A pregnancy forum containing info for moms, potential parents and anyone in need of pregnancy tests. If you have a baby, young child or are planning on giving birth, this is THE resource for issues about being pregnant.
Divine Gold - Relaxation music CD's to nurture Body, Mind and Spirit. A unique gift for people from all walks of life as well as for any occasion. And this is only the beginning...
R.a.i.s.e Rheumatoid arthritis information support & education. The complete rheumatoid arthritis resource. Free education package. Current news, information, resources.
Magnetic Bracelet, Magnetic jewelry for Magnetic Therapy.
Magnet therapy pain relief products, information and educational resources.
HEALTH,2,3,4|HEALTH DIRECTORIES| PHARMACY, 2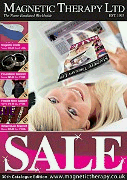 New to Magnetic Therapy? Claim your FREE information pack

Like This Site
Tell a Friend About it