Interactive Health Tools
Do you have a cold or an allergy? Do you know your target heart rate? Would you like to learn more about how the heart functions? You'll find answers to these questions and more by clicking on the interactive applications below. Sample topics include Diabetes, Smoking, Pregnancy, Cancer Screenings, Depression, Nutrition and many more. The applications are divided into four categories- Health Quizzes, Health Assessments, Health Calculators and Health Interactive.
Health Assessments are designed to help you learn more about your risk factors for a variety of health problems.
Health Assessments:

Is it an Allergy or a Cold?

It can be difficult to tell the difference between an allergy and a cold. But since the two are treated differently, distinguishing between them may be an important first step in helping you or your child feel better. Take our brief quiz to find out more about what separates allergies from colds.

click here




Are You at Risk for Diabetes?

More than 6 million people have diabetes and don't realize it, according to the Centers for Disease Control and Prevention. And that's not so surprising. Often people don't feel sick until they have disease-related complications, such as blurry vision or heart trouble. In fact, you may have diabetes for nine to 12 years before it is diagnosed. Take a short quiz to find out if you are at risk.

click here




Check Your Body Mass Index

Body mass index provides a general guideline for your healthy weight range. Body mass index (BMI) is the most commonly used guideline for healthy body weight in adults. It's calculated by dividing weight (in kilograms) by height (in meters squared). Everyone's BMI falls into one of four categories: underweight, normal, overweight or obese. These ranges are based on scientific evidence of increased health risks in people with BMI's above or below normal.

click here




Does Your Child Have ADHD?

Only a doctor can tell you if your child has Attention-Deficit/Hyperactivity Disorder (ADHD). But answering a few questions can help you decide whether a doctor's visit is necessary. If you're a parent, you can probably remember an instance—or two or five—when your child didn't pay attention to what you said. Then there was that visit with Aunt Edna, when you didn't think your child would ever stop fidgeting. Does that mean you should worry about ADHD?

click here




Do You Have a Drinking Problem?

Alcohol abuse and addiction are closely related, and one can progress to the other. If alcohol is becoming a problem for you, it's best to address it as soon as possible.

click here




Check Your Risk for Skin Cancer

Skin cancer can affect anyone. But some people are more vulnerable to the disease than others. Answering a few questions can help you see where you stand. Some people say a suntan looks attractive. They may not realize they're looking at skin cells damaged by ultraviolet (UV) rays. With time, this damage could lead to skin cancer.

click here




Are You Depressed?

Depression is a serious but treatable illness. If you or someone you love has symptoms of depression, it's important to seek help. Each year, nearly 10 percent of American adults—about 19 million people—experience some sort of depression. It affects people of every race, economic status and age.

click here




Are You at Risk for Prostate Cancer?

Several factors can increase your risk of prostate cancer. But knowing your risk can help you and your doctor make a plan to protect you. After skin cancer, prostate cancer is the most common type of cancer in American men. It affects roughly 189,000 men every year and is responsible for about 32,000 deaths, according to the American Urological Association.

click here
Beds and Mattress Medical Evaluation Organization Medically Evaluating Beds and Mattresses to help the consumer make a better sleep choice. http://www.beds.org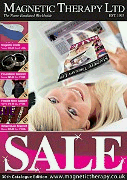 New to Magnetic Therapy? Claim your FREE information pack

Like This Site
Tell a Friend About it