Interactive Health Tools
Do you have a cold or an allergy? Do you know your target heart rate? Would you like to learn more about how the heart functions? You'll find answers to these questions and more by clicking on the interactive applications below. Sample topics include Diabetes, Smoking, Pregnancy, Cancer Screenings, Depression, Nutrition and many more. The applications are divided into four categories- Health Quizzes, Health Assessments, Health Calculators and Health Interactive.
Health Calculators can be used to learn more about the numbers that impact your life and your health.
Health Calculators:


Learn Your Target Heart Rate

Pacing yourself properly by staying within your target heart rate can help you safely get the benefits of exercise. If you're trying to increase your fitness level, aerobic exercise is just the ticket. In addition to strengthening your heart and lungs, aerobic exercise can help control cholesterol levels, diabetes and obesity. In some cases, it can also help lower blood pressure, says the American Heart Association.

click here




Calculate Your Due Date

Use this calculator to get an estimate of your baby's arrival date. When you find out you're pregnant, one of the first questions that will undoubtedly pop into your mind is "When will my baby be born?" Though there's no sure way to predict your exact delivery date, you can get a close estimate.

click here




The Cost of Smoking

How much money do you spend on cigarettes? The total costs of smoking are nearly impossible to pin down—physically or financially. Every year, this habit claims hundreds of thousands of American lives and costs billions of dollars in health care expenses. Inside every smoker's body, the heart, lungs, arteries, teeth and other organs pay the price every time he or she inhales.

click here




Exercise Burns Calories

Exercise is a great way to burn calories and lose weight. Calculate how many calories you're burning with daily activities and exercises. Physical activity is an important part of a healthful lifestyle. Among its many benefits, staying active can help you lose weight or maintain your current weight.

click here




Count Your Heartbeat and Breaths

Your heart and lungs work around the clock to keep oxygen levels up. With every breath, your lungs draw in more life-sustaining oxygen. With every beat, your heart sends blood surging out into your lungs to collect this oxygen and out into your body to nourish cells, organs and tissues. Use this tool to get an estimate of how much work your heart and lungs have done for you.

click here




Calculate Your Fibre Intake

Tracking your fibre intake is fairly simple, and it can have a big impact on your health. The recommended amount for adults is between 21 and 38 grams a day according to the Institute of Medicine Food and Nutrition Board. Determine how much fibre you're eating or add more fibre to your diet using this simple calculator.

click here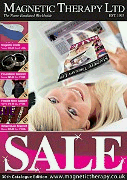 New to Magnetic Therapy? Claim your FREE information pack

Like This Site
Tell a Friend About it