Free Magnetic Therapy information pack for you.
If you would like a FREE information pack detailing how natural magnetic therapy treatments can help you, your friends or your family simply click on the button below. Our highly informative pack will be sent free of charge. The pack contains the magnetic therapy magazine "Magnetic Health Matters", a Real Life Stories CD, "Ten amazing facts you never knew about magnets", the latest magnetic therapy research articles and more..
N.B We currently send FREE information pack to the UK only. You can only request one information pack per household. There is postage charge of £1.00 which will show in the last step of the ordering process. Information pack must be ordered on their own as a separate transaction.
Real life experience:
Dear Sir or Madam,
I am writing to thank you for the information pack providing details on the magnetic devices that your organisation markets.
At the time I requested the pack, I was on sick leave from work following an 'incident' with my lower back which virtually incapacitated me for almost 3 days. As I have a history with this problem spanning some 40 odd years, I know that my recovery period to anything like normal is usually around 10 days and even after this care must be exercised with all levels of mobility for anything up to a month. Imagine my surprise after applying the sample magnet to the epicentre of the lower back pain that within 48 hours the pain had subsided to a tolerable level and much of my mobility was restored leaving minimal discomfort. Normally, this situation would only be reached after around a month. In common with many of your customer's comments, I too was sceptical on the results and benefits of using magnetic devices for the relief of pain. But all I can say is that the proof is in the use of the device.
In view of this short but effective trial, I am ordering a magnetic back belt which I am confident will provide the sometimes desperately needed pain relief that a lower back injury requires.
I shall also be phoning to arrange an appointment for the complimentary 14 point healthcare check up and to order the magnetic therapy workshop report
Yours Sincerely
Mr A. T Newbould (25 august 2005)
Data Protection: We guarantee you that your personal information will not be passed on to any third party. The details you have provided us will be used solely for the purpose mentioned above. For more information read our Privacy Policy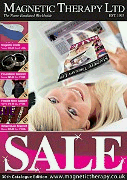 New to Magnetic Therapy? Claim your FREE information pack

Like This Site
Tell a Friend About it