What is Magnetic Water (Part 3)
Part 3 of this article describes how drinking magnetised water detoxifies the body
When you drink the magnetic water, it goes from your stomach into the bowel. The magnetic charge is absorbed into the blood stream and is then rapidly distributed around the body to all the major organs and all the tissues.

The effects of this are similar to the magnets that are placed on the skin, in that it increases blood flow, reduces inflammation and re-oxygenises the blood and the cells. But what the magnetised water also does that the magnets placed on the skin do not do, is it actually eliminates toxins from within the body.

We all keep toxins trapped inside our body from chemicals in the food that we eat and the tablets that we take. Toxins are stored in our body because the liver cannot detoxify them properly.

We can be walking around with an excess 2 litres of fluid in our body that we do not actually need that is holding the toxins in our body.

What magnetic water does is it detoxifies the body by excreting the toxins through the kidneys. Provided you continue drinking the water you will not retain that fluid back again.

The effects of this is that the heart has a break, that is we take the pressure off the heart. It does not have to beat so many times a minute to do its work and it does not have to work so hard to pump blood around the body. Blood pressure naturally begins to come down which is why magnetised water is excellent for people with high blood pressure. If you have normal blood pressure it won't reduce your blood pressure to dangerously low levels as the body won't allow this to happen. All it will do is just help take the pressure off the heart. The effects of this are that we do not feel so tired , we sleep better, we have less headaches, we feel less stressed and we have more energy.

Magnetised water sounds as if it is a cure for all but it is not. It is a great overall body tonic but it is not going to take all the pain away from all over your body because it simply is not strong enough. It is a great booster for magnets that are placed on the body. You can increase the strength of magnets used on the skin by up to 10 times when drinking magnetised water. It will also prolong the results of magnets meaning your pain relief will last even longer, weeks or even months. Best of all the water wand has a life span of 10 years.

So grabbing yourself a magnetic water wand is a worthy investment if you want to reduce inflammation, detoxify or simply boost the power of the external magnets you are already using.
More Magnetic Therapy Articles: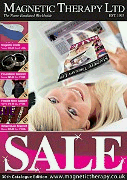 Magnetic Products:
Specialist Magnetic Products

Magnetic Straps

Magnetic Supports

Magnetic Hematite Bracelets

Stainless Steel Magnetic Bracelets

Expandable Hematite Magnetic Bracelets

Copper Magnetic Bangles / Bracelets

Magnetic Water Wand

Magnetic Shoe Insoles

Magnetic Mattress Pad

Magnetic Pillow Pad

Stainless Steel Magnetic Necklaces

Magnetic Rings and Earrings

Hematite Magnetic Necklaces

Magnetic Portable Travel Pad

Magnetic Bed Pad

Magnetic Collars
(dogs & cats)

Equine Magnetic Products

Massage Therapy Products

Magnetic Eye Mask

Conversion Chart
1 milliTesla (mT) = 10 Gauss