EXPANDABLE MAGNETIC BRACELET
Online Store>Expandable Magnetic Bracelets
These Magnopain hematite magnetic bracelets are expandable with an elasticated nylon/plastic cord and they will fit wrist sizes from 5 - 9 inches. For smaller wrists they can be adjusted. They have a mixture of magnetic hematite beads, crystal stones and copper base silver or gold plated metal. The Magnopain hematite magnetic bracelet will help to alleviate pain associated with Bursitis, Carpal Tunnel Syndrome, Sports Injury, Arthritis, Repetitive Strain Injury and increase blood circulation.
Two Together.
Special money saving deal - Buy Now

Buy any 2 expandable magnetic bracelets together and save £5.19 - (25% off)
Discount will show in your shopping basket.
Total list price: £41.50 Buy together Now: £36.31
CUSTOMER TESTIMONIAL
Ten years ago I started getting pins and needles in both my hands, which began to affect my tenor recorder playing but I persevered. Seven years ago, having finished my training in reflexology and massage, I started my own therapy business, which I have been doing ever since. However the pins and needles have gradually increased and pain started to develop. Tests in hospital in 2001 showed that I had medium to severe carpal tunnel syndrome and operations to both wrists was recommended. As a dedicated complimentary therapist, I was unhappy about this and turned down an operation date (though I do know that the operation is usually successful). I tried various therapies but nothing seemed to ease my condition and I still wanted to continue my work.

'Out of the blue'! A client of mine was introduced to Dee at World of Magnets. Since July 2002 I have been wearing magnetic hematite bracelets, drinking magnetized water and wearing magnetic insoles in my shoes (which has certainly helped my arthritic knee). The results have been amazing: no hand pain and minimal pins and needles. I now recommend magnet therapy to all my clients and many have been helped by it. I would certainly recommend it to any pain sufferers. Don't expect instant results. Accept the fact that we are all different and the same therapies do not always work for everyone. Don't forget the saying, 'Nothing ventured, nothing gained!

Barbara Scrivener Reflexologist (29.01.03)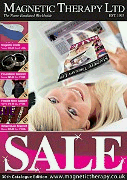 Magnetic Products:
Specialist Magnetic Products

Magnetic Straps

Magnetic Supports

Magnetic Hematite Bracelets

Stainless Steel Magnetic Bracelets

Expandable Hematite Magnetic Bracelets

Copper Magnetic Bangles / Bracelets

Magnetic Water Wand

Magnetic Shoe Insoles

Magnetic Mattress Pad

Magnetic Pillow Pad

Stainless Steel Magnetic Necklaces

Magnetic Rings and Earrings

Hematite Magnetic Necklaces

Magnetic Portable Travel Pad

Magnetic Bed Pad

Magnetic Collars
(dogs & cats)

Equine Magnetic Products

Massage Therapy Products

Magnetic Eye Mask

Conversion Chart
1 milliTesla (mT) = 10 Gauss