Hot/Cold Gel Pack
Online Store> Specialist Products >Hot/Cold Gel Pack
Cold therapy is helpful for reducing swelling and inflammation. Heat therapy helps relieve pain, including localized arthritic pain. Products which are convenient and easy to use are best. Gel packs, designed for heat and cold therapy, replace old-fashioned hot water bottles and electric heating pads. If you don't have one, consider the Magnopain hot/cold pack. It can be heated in the microwave or chilled in the freezer. Either way it stays soft, flexible and malleable. The non toxic biodegradable gel retains heat or cold for longer than ordinary soothers. Covered in velvety "frost free" fabric to protect your skin even when icy cold, the packs mould themselves to the contours of your body for maximum surface contact. The gel pack measures a generous 9 x 5 inches.

Cold compress: can be used after putting into the fridge/icebox for 30 minutes or in the freezer for 15 minutes. Can also be left in the fridge for longer periods of time.
Hot compress: can be used after heating in the microwave oven (middle power) for 90 seconds. If for continuous use the heating time should be within 60 minutes.
Application range:
Cold compress: Can relieve arthritis pain anywhere on the body, sprains and strains, toothache, back pain, tendonitis, shoulder, neck and elbow or any other type of joint pain.
Hot compress: Can relieve rheumatic ache , stomach ache, dysmenorrhea, sciatica and neck vertebra ache etc.
Caution: If the packing is damaged and the eyes and skin get touch with the inner liquid, please wash with clean water.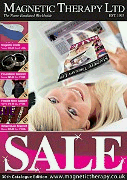 Magnetic Products:
Specialist Magnetic Products

Magnetic Straps

Magnetic Supports

Magnetic Hematite Bracelets

Stainless Steel Magnetic Bracelets

Expandable Hematite Magnetic Bracelets

Copper Magnetic Bangles / Bracelets

Magnetic Water Wand

Magnetic Shoe Insoles

Magnetic Mattress Pad

Magnetic Pillow Pad

Stainless Steel Magnetic Necklaces

Magnetic Rings and Earrings

Hematite Magnetic Necklaces

Magnetic Portable Travel Pad

Magnetic Bed Pad

Magnetic Collars
(dogs & cats)

Equine Magnetic Products

Massage Therapy Products

Magnetic Eye Mask

Conversion Chart
1 milliTesla (mT) = 10 Gauss