Before you buy any magnetic device YOU MUST read this vitally important information.
ALL magnetic therapy products (even magnetic jewellery) are classed as medical devices. It is absolutely essential for you to seek the advice of a trained and qualified magnetic therapist before using magnets. You wouldn't take a prescribed drug that your doctor hadn't prescribed for your personal use. To ensure that you receive the most appropriate type and strength of magnetic treatment for your specific ailment call the national FREEPHONE magnetic therapy advice line on 0800 612 1347. You will be able to talk to a trained and qualified magnetic therapist and get impartial advice and information.
Not all bracelets are the same. The cheapest bracelet is not necessarily the best for your needs.
All bracelets are not the same, there are vast differences between the three main types of magnetic bracelet. Strength is not the only factor to consider, how you will use your bracelet and the material the bracelet is made from are also crucial determining factors. To help you un choosing which type of bracelet is for you the differences between the 3 main categories of bracelets are listed below:
1. Stainless Steel bracelets: The stainless steel must be surgical grade (316L) which is
hypoallergenic so it is ok for people who are allergic to base metals to use these bracelets as they do not contain base metals. Each bracelet should have a 3,000 gauss magnet in every link. The amount of links in each bracelet is dependent on the length of the bracelet and the size of the link. The smaller the link the more magnets per bracelet length. View whole range>>

2. Hematite bracelets: Hematite is a hypoallergenic, graphite coloured, crystal which is known for itís blood purifying properties. These type of bracelets are available in 2 types, coil and expandable. They should have between 18-24 x 1,000 -1,200 gauss magnets in each bracelet. View whole range>>


3. Open ended bracelets: Probably the most widely known type of bracelet, they are available in many retail outlets. What is not so well known is that these type of bracelets are actually the weakest in strength of all the 3 main categories of bracelets and they must have at least 6 x 1,700 gauss magnets per bracelet. Plus if you are allergic to many base metals this type of bracelet will not be suitable for you. Also they will leave a green mark on the skin where the copper has been absorbed. View whole range>>
As if thatís not enough even bracelets that are in the same have massive difference in strength and overall effect depending on their manufacturer. Some link bracelets are not stainless steel but copper with plating over and will produce the same rub off effect as open ended bracelets and many suppliers only use 2,000 gauss magnets.
Whatís more you must ensure that your bracelet fits correctly around the wrist. If it is too tight it will cause pressure on the wrist when you get hot and during the night time, plus if itís too loose you will not get the full effects off the magnetic field as they magnets will not be contacting with the skin in the correct manor. To ensure that your bracelet is a perfect fit it should be Ĺ an inch looser than your tight wrist measurement. This should allow you to place 2 fingers side by side underneath the bracelet. If you have more than Ĺ an inch of slack on your magnetic bracelet it will need to be altered.
From the comparison chart below you can see which UK magnetic therapy suppliers provides the best quality super strength bracelets plus also provides ethical and impartial advice and support.
The name of the companies have been altered for legal reasons.
World of Magnets ltd
Bxxfxxw
Nxxsxxr
Maxxxtic Thexxxy ltd
Noxxh Soxxh Mxxxetixs
Maxxxtic Brxxelexx Lxd
Base metal of bracelet
Surgical stainless steel grade 316L
stainless steel
Copper base with plating over
stainless steel
stainless steel
stainless steel
Strength of each magnet - in Gauss*
3000
not known
not known
2000
3000
3000
Sizes available -
in inches*
5, 5.5, 6, 6.5, 7, 7.5, 8, 8.5, 9
one size
one size
6, 7, 8, 9
6ĺ,7Ĺ,8Ĺ
one size
FREE alteration service
X
X
X
X
X
FREE advice and info from qualified magnetic therapists
X
X
X
X
X
FREE follow up after your purchase
X
X
X
X
X
180 days no risk money back guarantee*
X
X
X
X
X
Cost*
£37.95
£50.00
£39.00
£45.95
£35.95
£39.95
*Information gathered from several websites on 15.8.06 and correct at that time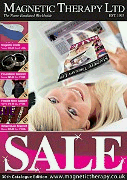 Magnetic Products:
Specialist Magnetic Products

Magnetic Straps

Magnetic Supports

Magnetic Hematite Bracelets

Stainless Steel Magnetic Bracelets

Expandable Hematite Magnetic Bracelets

Copper Magnetic Bangles / Bracelets

Magnetic Water Wand

Magnetic Shoe Insoles

Magnetic Mattress Pad

Magnetic Pillow Pad

Stainless Steel Magnetic Necklaces

Magnetic Rings and Earrings

Hematite Magnetic Necklaces

Magnetic Portable Travel Pad

Magnetic Bed Pad

Magnetic Collars
(dogs & cats)

Equine Magnetic Products

Massage Therapy Products

Magnetic Eye Mask

Conversion Chart
1 milliTesla (mT) = 10 Gauss