HEMATITE MAGNETIC BRACELET
Online Store>Hematite Magnetic Bracelet
The Magnopain hematite magnetic bracelets are made from black hematite beads. Hematite has its own healing qualities and is totally hypoallergenic, ideal for people who are allergic to metals. Each bead has a 1200 gauss magnet and these magnetic hematite bracelets have approximately 16-18 beads making them the highest strength bracelets. Magnetic bracelets are excellent for bursitis, high blood pressure, circulatory problems, insomnia, general well being and increasing energy levels. Coil hematite magnetic bracelets do not have a conventional magnetic clasp. They fasten by wrapping around the wrist and the magnets adhere to each other preventing the bracelet from falling off. This makes them perfect for people who suffer from metallic allergies. These hematite magnetic bracelets will fit all wrist sizes due to their wrap around style.
Real Life Stories:

"I have had arthritis in my wrist and fingers for several years. Due to the swelling I have been unable to wear a ring of great sentimental value to me having previously belonged to my dear mother.
I am so pleased now after wearing a hematite magnetic bracelet for only 6 weeks, I am able to wear my ring again with great pleasure. Many thanks for your help." Kathleen Ryan (13.04.06)
"Having had weeks of discomfort in my left hand, I was told my wrist was broken, then told rheumatism, then told torn tendons. I was living on pain killers as the pain was unbearable. I then read in the evening paper an article about World of Magnets. I phoned Dee to get some details. I ordered a hematite magnetic bracelet (beautifully designed I must say). After a couple of weeks my hand started to improve and now 4 weeks on, I am able to use my hand again. I can highly recommend using Magnopain hematite magnetic bracelets to anyone." Sylvia (June 2005)
The 7 Biggest Myteries About Magnetic Bracelets!
The Truth That Virtually Every Single Magnetic Bracelet Retailer Wants To Keep Secret From You... You will not find this information anywhere else on the internet - - Because they don't want you to know... A Special Report worth £17 for you, FREE!

Simply enter your name, e-mail and area of pain below, and you will be sent the download link via email INSTANTLY.
---
Physical Healing
Mineral and crystal healers associate Hematite with blood and use it in their rituals for treating blood-related illnesses such as hemophilia, anaemia, heart, kidney and liver diseases, cardio-vascular weakness, menstrual cramps, and nose bleeds. They also recommend it for use in treating the stress of jet lag, birth and surgery, tumors, insomnia, leg cramps, nervous disorders and fevers. Hematite was also a Native American remedy for dental problems, pimples, canker sores and alcohol abuse.
Mental Healing
Crystal healers credit Hematite with the ability to bring about a calm mental state, improve memory, mental focus and concentration, bolster self-confidence, and increase the effectiveness of logical processes of the brain. Considered by followers of the New Age to be an excellent stone for treating mental stress, hematite has a reputation for helping people bring order to mentally chaotic situations by drawing tension out of the body, neutralizing negativity and releasing anger. They also recognize its power for increasing mental function and believe it can improve memory, mathematical processes, logic, creativity and mental dexterity. Finally, it is an excellent aid in meditation, recognized by healers for calming the mental state, tuning the consciousness and increasing the pathways that lead to inner knowledge.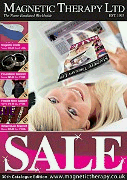 Magnetic Products:
Specialist Magnetic Products

Magnetic Straps

Magnetic Supports

Magnetic Hematite Bracelets

Stainless Steel Magnetic Bracelets

Expandable Hematite Magnetic Bracelets

Copper Magnetic Bangles / Bracelets

Magnetic Water Wand

Magnetic Shoe Insoles

Magnetic Mattress Pad

Magnetic Pillow Pad

Stainless Steel Magnetic Necklaces

Magnetic Rings and Earrings

Hematite Magnetic Necklaces

Magnetic Portable Travel Pad

Magnetic Bed Pad

Magnetic Collars
(dogs & cats)

Equine Magnetic Products

Massage Therapy Products

Magnetic Eye Mask

Conversion Chart
1 milliTesla (mT) = 10 Gauss