MAGNETIC HORSE PRODUCTS
Online Store>Horse Products
As a result of lengthy research and development, in conjunction with specialist vets, farriers, competition riders, and top breeders we are proud to announce the launch of our extensive range of Magnopain® magnetic horse products. The following conditions can be helped with our Magnopain® magnetic therapy horse products: Arthritis, Back pain, Hip dysplasia, Stress, Depression, Tiredness, Tendon injuries, Stiffness, Muscle strain, Fractures, Sprains, Strains, Laminities, Poor circulation, Hoof problems, Ligament injuries, Skin conditions, Neck problems, Poll problems
click on images for a larger view and to buy
There are many tales of miraculous recoveries from competition riders.
3 day eventor Ebony Tucker has first hand experience with magnets:
"My horse had a sore back for quite some time. I decided to get his back x-rayed and they showed he had a twisted spine. Since purchasing a magnetic rug my horse has never had any soreness. After 4 weeks I decided to go for broke and really tested the horse to see how he would stand up to the heavier work. He pulled through with flying colours. He now only wears it pre and post competition. If I had they money I would have every horse wearing one."
Fellow eventor Sam Cundy found magnetic boots very useful when her horse Rosie threw a splint:
"It's rather difficult to quantify the benefits of the boots but Rosie's splint healed at the shorter end of the timescale that I had been told to expect and the remaining lump is actually quite small."
Chris Caden-Parker an equine sports therapist says:
"Experiments with thermography (heat imaging) have shown an increase in blood flow with the use of magnets. Therefore conditions which benefit from improvements in circulation are likely to respond positively to the use of a magnet"
Andy Bathe an equine surgeon at Cambridge University says:
"There are very few people in serious competition who don't use it now and there's no doubt it can be of benefit. There's a lot of anecdotal evidence from people who find that a horse who has been wearing a rug with magnets is a lot looser to ride straight out of the box."
Related Research articles >>
magnetic bracelet for pain relief, magnetic bracelet for arthritis, magnetic jewelry, copper magnetic bracelet, stainless steel magnetic bracelet, hematite magnetic bracelet.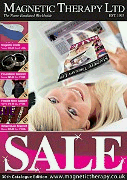 Magnetic Products:
Specialist Magnetic Products

Magnetic Straps

Magnetic Supports

Magnetic Hematite Bracelets

Stainless Steel Magnetic Bracelets

Expandable Hematite Magnetic Bracelets

Copper Magnetic Bangles / Bracelets

Magnetic Water Wand

Magnetic Shoe Insoles

Magnetic Mattress Pad

Magnetic Pillow Pad

Stainless Steel Magnetic Necklaces

Magnetic Rings and Earrings

Hematite Magnetic Necklaces

Magnetic Portable Travel Pad

Magnetic Bed Pad

Magnetic Collars
(dogs & cats)

Equine Magnetic Products

Massage Therapy Products

Magnetic Eye Mask

Conversion Chart
1 milliTesla (mT) = 10 Gauss