HEMATITE MAGNETIC NECKLACES
Online Store>Hematite Magnetic Necklaces
The Magnopain hematite magnetic necklace is ideal for people who are allergic to metal as hematite is totally hypoallergenic. Each large bead has a 800 - 1200 gauss magnet and the magnetic necklace contains approximately 22 - 80 beads depending on style. Some of these magnetic necklace come with matching magnetic bracelet. Because of its powers to calm and reduce stress, Hematite is often recommended by Crystal Healers as an aid in bringing about sound sleep by creating a calm, meditative state within the mind. Furthermore, they credit it with reducing the effects of Jet lag and eliminating worry, which can cause insomnia, resulting in a happier person more in touch with his or her inner self.
The Magnopain Magnetic necklace will alleviate pain associated with spondylosis, frozen shoulder, whiplash injury, migraine and tension headaches.
Perfect Partner
Buy a matching hematite magnetic necklace and magnetic bracelet today and save - 25% off
Discount will show in your shopping basket.
---
Topaz
Topaz is a powerful stone in the way that quartz is. It is a balancing and calming stone that balances emotions, releases tension, balances emotions, and can bring joy. Topaz is also believed to bring success and good fortune, and synchronicity. It also is said to bring creativity, individuality, true love, and hope. Spiritually it brings in spiritual love and peace. Physically, topaz aids with gout, blood disorders, hemorrhages, poor appetite, tissue regeneration, tuberculosis, aging (reverses), endocrine system.
Topaz, Blue
Blue topaz brings leadership ability to anyone who wears or carries it. It also enhances and improves psychic knowledge, spiritual growth, and psychic insight. It also lends and air of tranquillity in those endeavours.
More magnetic necklaces>>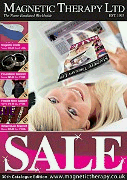 Magnetic Products:
Specialist Magnetic Products

Magnetic Straps

Magnetic Supports

Magnetic Hematite Bracelets

Stainless Steel Magnetic Bracelets

Expandable Hematite Magnetic Bracelets

Copper Magnetic Bangles / Bracelets

Magnetic Water Wand

Magnetic Shoe Insoles

Magnetic Mattress Pad

Magnetic Pillow Pad

Stainless Steel Magnetic Necklaces

Magnetic Rings and Earrings

Hematite Magnetic Necklaces

Magnetic Portable Travel Pad

Magnetic Bed Pad

Magnetic Collars
(dogs & cats)

Equine Magnetic Products

Massage Therapy Products

Magnetic Eye Mask

Conversion Chart
1 milliTesla (mT) = 10 Gauss