PROFESSIONAL MAGNETIC SUPPORTS
Online Store>Magnetic Sports Products

Physiotherapists in professional sports medicine have used magnetic therapy supports since the early 1980's. It is now widely accepted and used throughout professional sports. Magnetic therapy increase blood flow and circulation. They speed up the healing process and alleviate pain. As a result, inflammation around an injury is reduced. Magnetic therapy will increase blood flow through the heart and increase oxygen to the organs and tissues. The benefits of magnetic therapy are well documented worldwide but what is the bottom line. The bottom line is that magnetic therapy supports will help your injuries heal faster, alleviate your pain and enable you to return to the golf course, playing field or court quicker.
Magnopain® Pro sports support Range
click on images for more information and to buy
Don't just take our word for it this is what professional sports people have to say about magnetic therapy:
"When I was introduced to magnets, I used them on my knees and the agonizing discomfort was greatly reduced. Then I used the mattress pad and it improved my energy all day. I stopped taking painkillers and several years later I am still pain free. (Mark Absalom Pro skier.)

" Sleeping on a magnetic mattress seems to really help. Last year pretty much everyday, I would get up and wouldn't feel very strong, kind of achy, I didn't look forward to going to the golf course and it showed." (John Huston. PGA golfer pro tour.)
"Wearing magnets helped me feel well and play well." (Donna Andrews Pro golfer LPGA tour.)
"Our players have used magnets for 2 years and they have proven to be an effective aid in the recovery of professional football's aches, pains and injuries." (Ryan Vermillion, MD Director of Rehabilitation for the Miami Dolphins.)
"As an athlete who puts tremendous amounts of stress on my body day after day I have had my share of injuries. I was diagnosed with acute tendonitis in my wrist prior to the U.S. open. I opted to try a magnetic bracelet. I was a little sceptical at first but my wrist felt better within a week." (Sarah Taylor WTA Tennis player.)
" I know what a difference magnets have made to my life! I would like to help anyone else I can feel this great." (Dan Marino quarter back for Miami Dolphins.)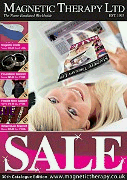 Magnetic Products:
Specialist Magnetic Products

Magnetic Straps

Magnetic Supports

Magnetic Hematite Bracelets

Stainless Steel Magnetic Bracelets

Expandable Hematite Magnetic Bracelets

Copper Magnetic Bangles / Bracelets

Magnetic Water Wand

Magnetic Shoe Insoles

Magnetic Mattress Pad

Magnetic Pillow Pad

Stainless Steel Magnetic Necklaces

Magnetic Rings and Earrings

Hematite Magnetic Necklaces

Magnetic Portable Travel Pad

Magnetic Bed Pad

Magnetic Collars
(dogs & cats)

Equine Magnetic Products

Massage Therapy Products

Magnetic Eye Mask

Conversion Chart
1 milliTesla (mT) = 10 Gauss