PORTABLE MAGNETIC TRAVEL PAD.
Online Store> Magnetic Travel Pad
The Magnopain® portable magnetic travel pad is a lightweight, slim line pad, containing 45x2600 gauss (45x260mTesla) magnets, measuring 50x20ins. It has a new innovative, flexible design, which allows it to be folded in 7 different ways providing maximum versatility. It also comes with an optional drawstring travel bag for total portability. The magnets have a life span of 10 years and the pad is made from cotton twill quilting. It is machine washable at 40°C. The pad will last for years and years.
The Magnopain® portable magnetic travel pad is available in white only. A colour combination for everyone. With the optional waterproof drawstring carry bag, the travel pad can easily be fitted into any suitcase or holdall. Now you can take your magnets on holiday with you. When packing your travel iron, travel hairdryer and travel toothpaste just slip in your ultra slim portable magnetic travel pad. Make sure your holiday ends like a dream not a nightmare.
click on images for a larger view

size: 50x20 inches strength: 45x2400 gauss (45x240mTesla)

We understand the importance of regular exercise and increasing activity levels. The travel pad is designed to be used as a totally portable magnetic pain relief system. The magnets will increase circulation, reduce inflammation and alleviate pain. Its innovative, flexible, sectional design allows it to be used in a variety of different ways. You can place it in your bed under your sheet as a mattress pad it will alleviate pain from all over the body as it fits from shoulders to feet. You can use it in a recliner chair or on a sofa when reading or watching TV. It will fit your car, coach, or plane seat for comfort and relief on long journeys. The travel pad can be used outdoors, using the waterproof side, take it with you when you are out walking, hiking or playing sports. The pad can be folded to fit all types of seating patio, folding, deck, or recliner chairs. You can even place it on your sun lounger, don't worry about it getting wet, the waterproof coating will keep it protected

Whether you enjoy gardening, D.I.Y, walking, cycling, fishing, playing bowls, taking coach/car trips, playing golf, or just going to bingo the extra exercise and activity can cause stresses and strains on your body. An existing injury or ailment can suddenly start to "act" up again. Back ache, sore knees and aching feet and legs are all common summer complaints. As you get out and about you begin to use muscles that you haven't used all winter. The result of your increased activity is that you may ache, feel tired or aggravate old injuries. When summer is here you want to be able to enjoy every sunny day. You don't want be out of action because of pulled muscles or aching limbs.

You may be looking forward to your summer holiday, whether you are going abroad or just staying in the UK the reasons for going on holiday are the same, rest and relaxation. More often than not you lead a more active lifestyle whilst on holiday. Sight – seeing, walks, swimming, exploring the countryside and dancing the night away. You can find yourself staying out late and burning the candle at both ends. Often you return from holiday more tired and washed out than when you went. You need a holiday to get over your holiday.

Now there is no reason not to get out and about. Take your Magnopain® portable magnetic therapy travel pad with you and enjoy the comfortable cushioned pad whilst getting the benefits of the magnets. Come back from your holiday feeling relaxed and refreshed without those tiresome aches and pains. Make the most of each and every sunny day.
---
Customer Review:
Write an online review and share your experience of magnetic therapy with other pain sufferers.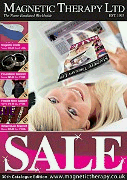 Magnetic Products:
Specialist Magnetic Products

Magnetic Straps

Magnetic Supports

Magnetic Hematite Bracelets

Stainless Steel Magnetic Bracelets

Expandable Hematite Magnetic Bracelets

Copper Magnetic Bangles / Bracelets

Magnetic Water Wand

Magnetic Shoe Insoles

Magnetic Mattress Pad

Magnetic Pillow Pad

Stainless Steel Magnetic Necklaces

Magnetic Rings and Earrings

Hematite Magnetic Necklaces

Magnetic Portable Travel Pad

Magnetic Bed Pad

Magnetic Collars
(dogs & cats)

Equine Magnetic Products

Massage Therapy Products

Magnetic Eye Mask

Conversion Chart
1 milliTesla (mT) = 10 Gauss