Nukkles - "The World's Greatest Back Rub"
Online Store> Specialist Products >Nukkles
Nukkles are one of a kind, hand-held massage product that put the "power of massage in the palms of your hands." With its patented flex-technology, Nukkles contour to the body, allowing anyone to provide a deeply satisfying massage experience. Use Nukkles directly over clothing or on bare skin. Either way, one touch and you'll be hooked. Available in 6 colours. (For an even more pleasurable massage, use with Massage Oil.)
Nukkles is a unique invention that allows you to give a deeply satisfying massage experience with the minimum of effort...
Nukkles enables you to provide a massage as good as the professional masseur, for the ultimate relaxation experience.

You may have tried the old fashioned wooden back massager in the past or even the more recent roller back massager and you even may have found them to be reasonably good... but now with the help of space-age technology, get ready for a brand new massage experience. A Nukkles massage is like no other massage you have ever experienced.

Nukkles are not just designed to be used for back massage Although they are a Great Back Massager, they are also recommended for shoulder massage, head massage, neck massage, leg massage, arm massage, reflexology or for easing a muscle spasm just about anywhere!

Price: £7.99

click here to BUY>>

Available in, RED, SAPPHIRE BLUE, EMERALD GREEN, AMETHYST PURPLE or GLOW IN THE DARK.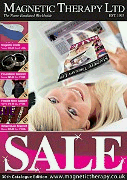 Magnetic Products:
Specialist Magnetic Products

Magnetic Straps

Magnetic Supports

Magnetic Hematite Bracelets

Stainless Steel Magnetic Bracelets

Expandable Hematite Magnetic Bracelets

Copper Magnetic Bangles / Bracelets

Magnetic Water Wand

Magnetic Shoe Insoles

Magnetic Mattress Pad

Magnetic Pillow Pad

Stainless Steel Magnetic Necklaces

Magnetic Rings and Earrings

Hematite Magnetic Necklaces

Magnetic Portable Travel Pad

Magnetic Bed Pad

Magnetic Collars
(dogs & cats)

Equine Magnetic Products

Massage Therapy Products

Magnetic Eye Mask

Conversion Chart
1 milliTesla (mT) = 10 Gauss