Magnetic Bangles
Online Store>Premium magnetic bangles
The Magnopain premium magnetic bangle will fit all wrist size. Each magnetic bracelet contains 6 x 1700 gauss magnets. They are made from pure copper and some have either a gold or/and silver plated finish. The Magnopain open ended magnetic bangles will help alleviate the pain associated with arthritis of the hand and fingers, fracture sites, carpal tunnel syndrome and repetitive strain injuries. If you suffer from a more chronic complaint which gives you severe pain, you should opt for a super high strength stainless steel magnetic bracelet instead.
Available in 7 designs.
Two Together.
Special money saving deal - Buy Now

Buy any 2 open ended magnetic bangles together and save £5.49
Discount will show in your shopping basket.
Total list price: £43.90 Buy together Now: £38.41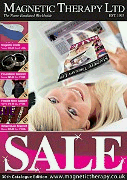 Magnetic Products:
Specialist Magnetic Products

Magnetic Straps

Magnetic Supports

Magnetic Hematite Bracelets

Stainless Steel Magnetic Bracelets

Expandable Hematite Magnetic Bracelets

Copper Magnetic Bangles / Bracelets

Magnetic Water Wand

Magnetic Shoe Insoles

Magnetic Mattress Pad

Magnetic Pillow Pad

Stainless Steel Magnetic Necklaces

Magnetic Rings and Earrings

Hematite Magnetic Necklaces

Magnetic Portable Travel Pad

Magnetic Bed Pad

Magnetic Collars
(dogs & cats)

Equine Magnetic Products

Massage Therapy Products

Magnetic Eye Mask

Conversion Chart
1 milliTesla (mT) = 10 Gauss