STAINLESS STEEL MAGNETIC BRACELET
Online Store> Stainless Steel Magnetic Bracelet
Magnetic Bracelet range in pure stainless steel (316L). Beautiful, stylish, heavy duty and long lasting, the Magnopain stainless steel magnetic bracelet has a 3000 gauss (300 mTesla) magnet in each link. Zinc free, they are ideal for people who are allergic to cheap metals. These Magnopain® stainless steel magnetic bracelets are the highest strength available on the U.K market and have between 7 and 25 magnets depending on design and length. These magnetic bracelets are super high strength and will help with arthritis in the hands, wrist and lower arm, repetitive strain injuries and carpal tunnel syndrome.
Click on images for more details and to buy
Two Together.
Special money saving deal - Buy Now
Buy any 2 stainless steel magnetic bracelets together and save £9.49 - (25% OFF)
Discount will show in your shopping basket.
Total list price: £75.90 Buy together Now: £66.41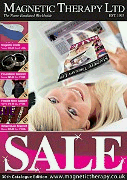 Magnetic Products:
Specialist Magnetic Products

Magnetic Straps

Magnetic Supports

Magnetic Hematite Bracelets

Stainless Steel Magnetic Bracelets

Expandable Hematite Magnetic Bracelets

Copper Magnetic Bangles / Bracelets

Magnetic Water Wand

Magnetic Shoe Insoles

Magnetic Mattress Pad

Magnetic Pillow Pad

Stainless Steel Magnetic Necklaces

Magnetic Rings and Earrings

Hematite Magnetic Necklaces

Magnetic Portable Travel Pad

Magnetic Bed Pad

Magnetic Collars
(dogs & cats)

Equine Magnetic Products

Massage Therapy Products

Magnetic Eye Mask

Conversion Chart
1 milliTesla (mT) = 10 Gauss