Drug Information
Magnets have proven to be substantially more effective than pain killing drugs…. here's how, and why it's critically important you understand the following.

Conventional painkillers like paracetamol, codeine based tablets (like co-codamol) and anti inflammatory medications (like brufen) reduce pain by blocking the pain message from the injury to the brain. They do not treat the cause of the pain, which is inflammation (swelling) around the injury (except anti inflammatory drugs which have a small effect on inflammation). No wonder they only work for a short period of time.

The fact is magnets do work to treat the cause of the problem. They get straight to work on reducing the inflammation around your back and when the inflammation is gone the pain goes away too. What's more because they have treated the cause of the pain, the results can last for a long period of time, weeks or even months. NOW- because the magnets are working deep at the root of your problem the results are not instantaneous they do take a little bit of time to work. But within 2 to 4 weeks you will see very noticeable changes.

A very recent study (December 2004) by the Arthritis Research Campaign and University of Exeter recruited 194 patients aged 45-80, with Osteoarthritis. Patients wore a magnetic device for 12 weeks. They found a significant reduction in pain scores between the standard and dummy magnets. A spokesperson for ARC said
"Results appear to show that wearing a magnetic device does help reduce pain in people with hip and knee Osteoarthritis, people with osteoarthritis might want to consider wearing them as a part of their self help regime."

This Section of the website will provide you with all the information you did not know about the painkiller tablets that you are taking. You will be able to find out about the side effects of these drugs and how they are affecting your body.
News Flash:
Painkiller linked to 140,000 heart attacks in patients
By Jeremy Laurence, Health Editor The Independent Newspaper.(25 January 2005) Read full article>>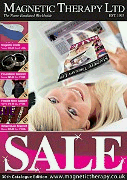 New to Magnetic Therapy? Claim your FREE information pack

Like This Site
Tell a Friend About it