Magnetic Therapy Real life Stories
Arthritis in back, hips and knees

"I had been diagnosed with severe arthritis in 1995 in my back, hips and knees. I had one hip replacement operation in the year 2000 and the other in 2004, having spent a small fortune on various tablets, creams and gadgets which didn't work. I saw an advert in a paper about magnetic therapy and phoned Dee to enquire. I was willing to give the Magnopain magnetic belt for my back a try and I have to admit it is marvellous. It has given me a new lease of life. I had been on painkillers four times a day and now I have cut them down to twice a day and I hope to come off them altogether soon. All this and I only started wearing the belt 5 weeks ago. I also bought the magnetic knee strap, water wand, bed pad and shoe insoles, which I believe are all helping with my aches and pains. Thank you Dee."

Marion Nicholson,
Glenhinisdale
Isle of Skye.
UK
7th March 2007

Arthritis in knees

"I recently purchased two magnetic knee straps for my 80 year old mother who now finds it hard to climb stairs and to bend down and kneel due to Arthritis. I have been a firm believer in magnets for quite a few years and wear a magnetic bracelet 24/7 which I am sure has eliminated the Menopause (No sweating, irritability) etc as I feel my hormones are balanced. My mother after just a few days of wearing the straps could not believe the mobility that she now has and is pain free when climbing stairs, she is trying little things each day, which she could not do for a long time and is very pleased with herself that she is winning. Here is a skeptic who poo pooed healing magnets when I first started using them, but she has now admitted she was wrong, there's a first. Thank you so much for your time and trouble and the information that you send please keep up the good work."

Elaine Shepard,
London
UK
5th March 2007

Parkinson's Disease

"I was diagnosed with Parkinson's disease about 2 years ago. I do not have tremors in my upper limbs, but do have stiffness and the muscles in my legs and arms.
I started wearing magnetic knee straps in December 2006. I felt an immediate improvement and the severe leg pain was noticeably better. I now experience almost no pain at all in my legs. This has improved the walking I am now able to do and has reduced the need for painkillers.
I still use Sinemet Plus (anti parkinsons drug) but am much more mobile since wearing the magnetic knee straps."

Mrs Caroline Peck,
Crediton
Devonshire.
UK
27th January 2007

Knee pain

"I purchased two magnetic knee straps, one pair of insoles and a water wand in January after a chat with nurse Dee as my husband could hardly walk without pain in his knee. After eight weeks he was walking again and had NO PAIN. Thank you for all your help, we are both VERY GRATEFUL."

Mrs Margret Bowater,
West Midlands.
UK
6th April 2007

Arthritis in hips

"My name is Ruth Naile I am 67 years old and I have had arthritis for at least 15 years due to several motorcycle accidents (and age). I heard of 'World of Magnets' in a magazine article and decided to try the treatment - disliking taking of pain killers, which I consider only 'masks' the problem.
First 'dipping' my toes in the water, I tried the hip strap (magnetic back belt) which eased the pain within 3 weeks so I invested in the hip and lower leg straps etc as recommended by Dee Parsons, specialist nurse. I would highly recommend your firm to anyone suffering arthritis pain, it's magic! Thanks also to Dee, always approachable and helpful with her advice. May we wish you every success."

Mrs Ruth Naile,
Lincoln.
UK
5th April 2007

Trigeminal Neuralgia

"For many years I have suffered from a condition called trigeminal neuralgia. An excruciating pain down the right side of my nose and my right eye. Visits to the hospital for an MRI scan followed by endless trips to my GP for suitable pain killers have left me in total frustration. Nothing even touches the pain. I have to go to bed and the pain is so bad it makes me physically sick. Then my sister told me about the world of magnets.
I started with a small healing magnet placed against my nose, followed by a magnetic water wand which is put in water and then a magnetic pillow. After a week I started to notice a difference in the amount of attacks I was having. I have now been using magnets for three months and I am now completely out of pain most of the time. I still get small twinges but nothing to what it was. I want to send a big thank you to Dee for all her help and advice, and also to my sister for telling me about this wonderful product. Yes, it really does work."

Mrs Denise Claxton,
Derby.
UK
12th April 2007
"Wearing a magnetic necklace has alleviated somewhat the pain of cervical spondylosis, but I find that I have to remove it every few weeks as it seems to stop working. I give it a couple of weeks rest and then try it again. I also use tens when it get's really bad. they do work. the pain does not go away completely but both tens and healing magnets seem to help. Try them; see if they will work for you. Anything is better than taking pain killers. Going abroad to the sunshine does help. Wish I could do it all the time."
Pauline Reece
14.03.07
magnetic therapy real life experiences >>
Magnetic therapy pain relief testimonials
Natural pain relief success stories
Natural pain treatments testimonials
Magnetic therapy treatments testimonials >>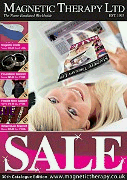 New to Magnetic Therapy? Claim your FREE information pack

Like This Site
Tell a Friend About it