Magnet Therapy Real Life Experiences
Below are just a few of the comments that we receive from our customers over the past few months.


RHEUMATISM (FINGERS)
"I met Dee at a ladies group where she spoke about magnet therapy. Since a child (I am now 80) I have suffered with rheumatism so decided to give it a try. After choosing a bracelet, pillow and mattress cover, found after 10 days that I could get my engagement ring on over my knuckle, the first time for several months. Also since using the magnetic pillow and mattress cover (which is very comfortable) have been sleeping more soundly and haven't had to get up during the night to go to the toilet. My energy levels have also certainly improved, especially in the mornings. At my age you can not put the clock back but magnet therapy seems to be helping me."

G. Fellows, Nottinghamshire


ARTHRITIS (HANDS) AND HIGH BLOOD PRESSURE
"About 10 months ago, after a foot operation to realign the heel bones, I started having painful swellings on my hands between the thumb and wrist. It was very painful, especially the right hand, when under any sort of pressure, like opening jars or turning taps. My back was also uncomfortable in the lumbar region, so gardening and bed making etc became a trial. Any connection or coincidence between these events, I know not. On having a check up I was told that my blood pressure was up and my hands were arthritic. However, at this very same time I saw an article in our local paper from World of Magnets requesting people to take part in a pain reduction study. So all to gain and nothing to lose I sent for the information pack and made an appointment for Dee to phone me. My queries were answered and encouraged. It made a difference knowing that you have experienced these ailments. The results so far are that, to start with I was taking three ibuprofen 400mg each day, omeprazole 20mg to counteract the effects of the ibuprofen on my digestive system and ramipril 5mg for blood pressure; last week at my check up, I have been taken off the ibuprofen, it still hurts sometimes but inflammation is gone and blood pressure is returning to normal, though still on the tablets. This is after wearing a monet magnetic bracelet day and night for 3 weeks and drinking lots of magnetised water. My hands still hurt sometimes if I 'do too much', but seem to recover more quickly. I think that it is very likely that using the magnetic bracelet has saved me from becoming a chronic case. My husband has just sent for a pair of your magnetic insoles. This must be praise indeed for your magnets!"

Margaret W. age 74


KNEE PAIN
"I am pleased to tell you that I have obtained much relief after using your magnet therapy. The pain is almost gone from my right knee and I am walking a lot easier. I have always used the magnet round my knee in bed at night time. I find this the easiest way and I shall continue using it this way."

M. Morgan, Derbyshire


OSTEOARTHRITIS (KNEE)
"Some time ago I was in constant from my right knee, with osteoarthritis. I could not do anything, shopping was limited and I needed an escort. But then I purchased a magnetic knee band and within a very short time I was able to move about freely on my own, most of the pain disappeared and I could sleep at night. People told me how much I had improved, they said that it showed in my face? I have regained my confidence to do things I had given up doing, thank to the band, it has saved me having an operation. So it has been money well spent from my point of view, well worth it."

L. Cook, Derbyshire


BROKEN WRIST
"About a year ago I broke my wrist leaving me with a great deal of discomfort and swelling, which resulted in not being able to do household chores very well such as ironing etc. I was introduced to magnet therapy by Dee from who I purchased a magnetic strap for my wrist, which has greatly reduced swelling and freed me from pain. I would recommend magnet therapy to anyone to help with pain relief."

E. Wass, Nottinghamshire


HIGH BLOOD PRESSURE
"I do not know if thank you is enough, after I felt so ill and depressed with a blood pressure of 195/85. After consultation you advised a magnetic water wand and bracelet which I received the next day. Just three weeks of this magnetic wonder I feel fine, blood pressure down to 147/67. Wonderful."

H. Johnson, Staffordshire


POST SURGERY PAIN IN ARMS, ELBOWS AND WRIST
"Thank you for introducing me to the world of magnet therapy. Until now I have endured years of pain and discomfort following multiple surgical procedures on both wrists, arms and elbows. Having had a fall in 1996 I have been resigned to constant severe pain but now after only 2 weeks of using a magnet I can honestly say that I feel much better, by at least 50% or more and to anyone who is in the same position. I can now see a light at last and hope for the future. There are times when pain is so severe you feel depressed and irritable. Thanks to the magnet that horrid feeling is lifting and I am beginning to enjoy my life now. I was very sceptical of new methods of pain relief but not anymore. Magnet therapy works and it is better for me that I am in contact with professionals who are helping me understand how it works. Now I am awaiting the post calling with a little ray of sunshine (the magnetic necklace and bracelet) for I am sure it will be beneficial for me. Once again thank you for showing me a different world than I've had for years."

Christine, age 56


JOINT PAIN
"I can't believe how much better my joints are since using the magnets. I have very slight pain now and again. My husband and I are both impressed with the magnets as is my friend. Many thanks to you all for your help."

K. Frank, York


ARTHRITIS (KNEE, LEG AND ANKLE)
"I had a badly broken leg some years ago and had many problems with arthritis, swollen ankles, knee and leg pain. I was told to try the magnets and was advised to have a magnetic water wand, insoles and a pillow. I have used them regularly and have found a significant improvement all round and in my general health, and the level of support has been excellent from all the staff."

C. Scott-Ison


RSI (WRIST)
"I have worn both wrist straps to aid R.S.I. pain continuously since they were delivered, and I can honestly say I have felt a difference! I have only taken them off when absolutely necessary (washing etc)."

P. Austin, Lincolnshire


ARTHRITIS
"After a long time on pain killers my wife's arthritis never got better. Two months with a World of Magnets Knee band the pain has completely gone. Can't thank you enough."

M. Hardiman, Worcestershire


ARTHRITIS
"I first heard your broadcast on radio Lincolnshire with Dave Bussey two years ago. I was very impressed with what you had to say and your obvious enthusiasm for magnets. When I heard a further late night phone in I took down the details and contacted you. My husband and I met you at the Newark showground in March 2004, where he purchased a bracelet and has worn it ever since! As you will know I have purchased a double shoulder wrap, magnetic back belt, pillow and 2 pairs of shoe insoles - all have made a difference to us!! We are both chronic arthritis sufferers but feel we have benefited from these items."

E. Naylor, Doncaster


MIGRAINES
"I brought a magnetic pillow a year ago to help with my migraines which I used to get quite frequently. but since using my pillow pad I have only had two migraines in the last year and one was my own fault. I had a slice of my sons chocolate cake!!! I am sure the magnet pillow Pad has helped. thank you."

A. Clarke, Colchester


RSI AND CARPAL TUNNEL SYNDROME
"I have for many months now been wearing one of your stainless steel bracelets. I suffer from both RSI and Carpel Tunnel Syndrome on my dominant hand. On wearing the bracelet for a matter of days, my ability to type for extended periods was enhanced by 50 to 70%. I could not stand the pain after prolonged periods at the keyboard.
The noticeable effects were measurable because I recently took the magnetic bracelet off at the gym and lost it. Whilst your speedy replacement was much appreciated, there was a profound difference between wearing it and not.
Thank you for making my work days so much more productive."

E. Eames, London

SHOULDER AND KNEE PAIN
"I am just writing to let you know that within seven days of receiving Magnets from yourselves the pain had gone out of my arm and shoulder. I had this pain for 3 years and physiotherapy at hospital had not helped alleviate the pain.
I also sent for a knee magnets and they have helped with the pain in my knees by fifty percent but it has not completely gone.
So I would like very much to recommend that anyone with a problem tries using magnets as they have made me feel a lot better. Also thank you very much for all your assistance and help, it is a comfort to know that I can call you anytime should I need to.

M. Hallam


ARTHRITIS AND SPONDYLOSIS
"After suffering with arthritis and spondylosis for over twenty years and very short periods of sleep I was recommended to The World of magnets. on receiving the booklet of the various types of magnets that were available I thought here goes nothing to lose with the information given and the guarantee that world of magnets gave to me I decided to buy a pillow also the mattress cover. I could not believe the effect and improvements that followed. After several nights of using the magnetic pillow and mattress cover I was getting more sleep and almost pain free nights. Also I regularly suffered with severe bouts of cramp but thankfully I am free of that as well. what a bargain a well worth while acquisition which I can well recommend. Many thanks to World Of Magnets for making my life more bearable."

A. Cleethorpes


FROZEN SHOULDER
" I have suffered with frozen shoulder for nearly 5 years. I've had injections and had therapy on it as well to no avail. I could not lift my arm sideways without experiencing a lot of pain, which increased as my arm got horizontal. the pain got so bad that I couldn't lift it anymore. I read about magnets in our local paper (The Derbyshire Times) so I thought I'd give it a try with a shoulder support. Within 24 hours of wearing it I could tell the difference. Within a month I could touch my ears with my arm with hardly any discomfort. I only wear it at night now. The magnetic shoulder strap for me is better than sliced bread-marvellous! I would recommend it to anyone.

Jack


VEIN AND NERVE DAMAGE TO LOWER LEG AND FOOT
"I am writing to say how grateful I am to World of magnets, some years ago I had a bad fall injuring my leg, ankle and foot. I had X rays and tests for many months, then I was told they were unable to help me. the veins I my leg and ankle was damaged and my foot was twisted. I was given a support for my leg but it only kept the swelling down. I had to wear special shoes but I was still in a lot of pain unable to go out or do my house work. I was told about magnets by a friend. I brought a knee band and ankle strap, within two weeks I was having less pain and sleeping better and able to go out and do my house work. And now I take very few pain killers. I have just ordered a magnetic bracelet as I hurt my wrist spring cleaning. I shall always be grateful to you.

O. Mecmans


BACK PAIN
"After years of pain in my lower back and trying everything even injections (which didn't work) I decided to try the Back belt. As with all other treatments I thought I had nothing to lose wrong I have lost my pain and it is great. After the 1st week I could not believe how much relief I had and said "been here before" but after 4 weeks and still no pain I think it really is working and worth every penny spent."


HIGH CHOLESTEROL
" My cholesterol has reduced from 7.6 to 6.9. I have been using magnetised water for seven weeks.
A small tip I put the magnetic wand into a straw, then you don't have to put your hand in the water to get it out.

J Mallende, York


SCIATICA
"Two years ago I had surgery to rectify sciatica. Unfortunately I got an infection in a disc which resulted in more than 2 months of immobility due to intense pain. my back left was weak and constantly aching, restricting my movements. I was resigned to this for the rest of my life. One morning I heard about World of Magnets on my radio. I phoned and spoke to Dee. She recommended the new magnetic bed pad and water wand. After using them for a week, my back felt stronger and the aching was dramatically reduced. Five weeks of therapy; I continue to feel improvements and I'm beginning to enjoy my life again."

M. McNicholl, West Yorkshire


ARTHRITIS
"I contacted world of magnets 2 months ago, hoping to help my arthritis, I couldn't believe how much it helped in several places. I also recommend my husband and friend who are now really pleases with the results of the magnets."


ARTHRITIS
" I live in a complex block of flats. In the community hall I saw a leaflet on the world of magnets ltd. I read the leaflet and was sceptical I suffer from a lot of pain from arthritis so I made a phone call to find out more bout the magnets. to cut a long story short, I decided to go and talk to the people themselves. After listening to them I brought two or three items and have been using them everyday for the past 4 weeks. the pain has subsided to a tolerant level. I am able to sit in comfort for longer periods of time and walk about much easier. I cannot thank you enough for all the help you have given me."

O.Willey, Nottingham


DEPRESSION AND HIGH BLOOD PRESSURE
" I do not know if thank you is enough. After I felt so ill and depressed and my blood pressure was 195/85.
After your consultation you advised a water wand and magnetic bracelet, which I received the next day. Just three weeks later I feel fine and my blood pressure is now down to 147/67 - wonderful. Thank you once again."

Johnson


ARTHRITIS (WRISTS AND FINGERS)
" I have had arthritis in my wrist and fingers for several years. Due to the swelling I have been unable to wear a ring of great sentimental value to me, having previously belonged to my dear mother.
I am so pleased now after wearing the hematite magnetic bracelet for only 6 weeks I am able to wear my ring again with great pleasure"

Kathleen, Derby


ARTHRITIS
"As a youngster I had a sporting life. Club motorcycle racing was my big passion and due to spills on and off the racecourse I've broken my ribs, shattered my left arm at the elbow and right collar bone. My left ankle was pinned and rebuilt and of course the hips take a pounding when bouncing down the race track, but I still ride a motorbike. I also drive a class 1 HGV for a living and had a nasty accident causing me head and neck injuries and now with age I suffer with a lot of aches and pains and stiffness which I did until I was introduced to World of Magnets products. I wear a magnetic necklace for the relief of my stiff neck and enhanced mobility and a magnetic bracelet which has relieved my right elbow of the constant pain. I also use a knee magnet support. I can't thank World of Magnets enough for the relief their products have given me."

Rod, Herts.

PARKINSONS DISEASE
"I have suffered from Parkinsons disease for 10 years now and I have tried many treatments to try and make my life more comfortable. I recently bought a magnetic pillow pad and a water wand, recommended by a friend of mine. After 2 weeks I have seen a marked improvement, especially first thing in a morning. Usually I cannot function until my medication kicks in but now I find I am able to move around, all be it slowly, but it is an improvement."

Mrs Stark, Darlington.
more magnetic therapy testimonials>>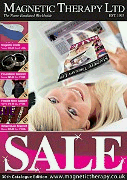 New to Magnetic Therapy? Claim your FREE information pack

Like This Site
Tell a Friend About it