Training
As a result of our nursing background, we realise the importance of patient education; which is why, we are the
UK's only dedicated magnet therapy clinic and training centre. Teaching is provided by trained magnet therapists who are also nurses with teaching qualifications. As part of our commitment to raise awareness of magnet therapy, we currently run 3 different levels of training.

General public half day workshop.

These are held once a week and are FREE to all members of the public. The following topics are covered:
History of magnet therapy. How magnet works? Types, strengths and uses of magnets. Application of magnets. Safety and precautions.
To book your free place on this half day workshop call free on
0800 6121347.
You may come alone or bring as many friends as you wish. Refreshments are provided free of charge during the day. At the end of the workshop you will feel confident to use magnets and be able to advise friends and family.

Complementary Therapists One Day Magnetic Therapy Certificate.

If you practise any complementary therapy and would like to incorporate magnet therapy, then this one day course will equip you with the knowledge to confidently use magnets on your patients. The course contains 6 modules and on completion a certificate will be awarded.
1. History of magnetic therapy. 2. Scientific and physiological principles. 3. Patient assessment. 4. Type, strength and uses of magnets. 5. Application methods. 6. Precautions and safety. This course cost £97.00 and includes all course materials, buffet lunch, drinks and certification.

Post Reg Nursing Certificate in Magnetic Therapy.


Specifically designed for primary care nurses, this one day course covers the 6 modules listed above plus strategies to implement magnet therapy in primary care, patient assessment and a fast track referral system for patients. The course cost £195 and includes all course materials, buffet lunch, drinks and certification.


For further information and to book a place call 0800 6121347.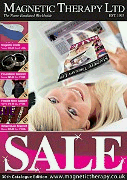 New to Magnetic Therapy? Claim your FREE information pack

Like This Site
Tell a Friend About it