Why choose World of Magnets?
Our aim.
We are not just a commercial magnetic therapy company. Our aim is to provide an impartial educational and advisory service country wide. We have a large purpose built diagnostic and treatment clinic in which we see people with a diverse range of ailments. We also treat competitive sports people such as footballers, tennis players and cricketers. We are the only dedicated magnet therapy clinic offering diagnostic, treatment and advisory services in the country. We do not charge for our diagnostic and advisory service. Free phone 0800 6121346 for advice or click on the live help image.
In addition to the clinic we also have a large training centre with 2 training suites that can take up to 60 delegates. We run magnetic therapy training courses for health care professional and other therapists such as sports therapists and complementary therapists.
In summer 2003, we conducted a research trial into magnetic therapy this has been in-conjunction with Arthritis care, the MS society and the Fibromyalgia association.
We have conducted research into many common ailments such as insomnia, migraine and IBS. These report findings are freely available to members of the general public and healthcare professionals.
What else have we done?
We regularly lecture to many charitable and support organisations & associations such as:
Arthritis Care, Pain Society, Back Pain Society, MS Society, Stroke Association, Osteoporosis Society, Fibromyalgia association, W.I., Probus Group, Inner Wheel & Rotary. We aim to maintain open channels of communication with all statutory support agencies and work with them to improve standards of care.
We have appeared as an expert guest on many BBC radio shows:
BBC Radio Cleveland, BBC Radio York, BBC Radio Humberside, BBC Radio Stoke, BBC Radio Leicester, BBC Radio WM, BBC Radio Berkshire, BBC Radio Sheffield, BBC radio 3 Counties, BBC Radio Lincolnshire & BBC Radio Oxford. BBC Nottingham. At Oxford we completed a consumer trial where 3 out of 4 people benefited from using our magnets.
Most guest slots include a phone in which is always well received by the listeners as they get an opportunity to find out if they can be helped by magnetic therapy. The shows always provoke a wide variety of interesting queries and comments. The listeners are always given the chance to obtain further information via the free help and advisory service which is provided in person or via a free phone system.
A recent stint of appearances on the Alex Trelinsky late show from BBC Nottingham produced such a great volume of interest that the helpline and advice line numbers were jammed for days. Each time we appeared we received between 800-1000 calls in the week following.
We have been published in the following:

Derby Evening Telegraph, Derbyshire Trader, Derbyshire Today magazine, Staffordshire Life, Saga magazine and many more.
At World of Magnets, we believe that magnetic therapy should be available to everyone everywhere.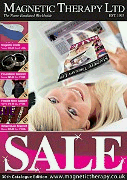 New to Magnetic Therapy? Claim your FREE information pack

Like This Site
Tell a Friend About it